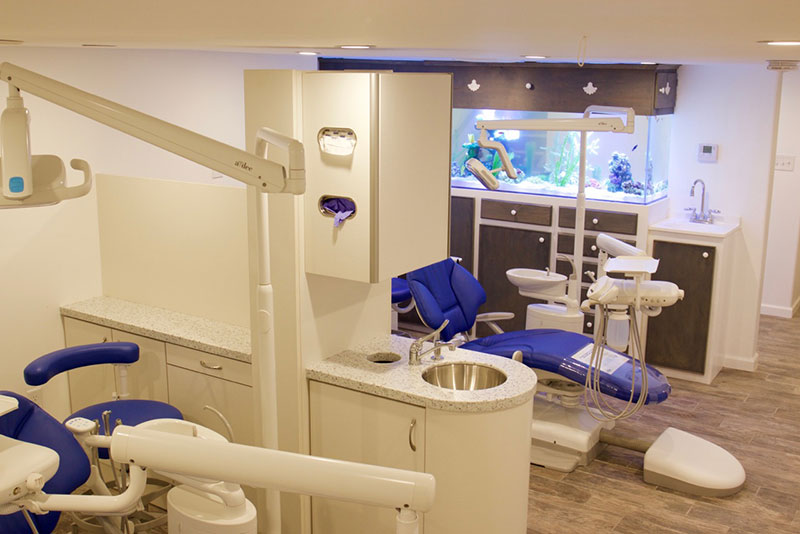 Hector G. Menendez, DMD's Mission Statement
To provide excellent dentistry using the most up-to-date equipment and materials. To do so in a caring and esthetically pleasing environment where our team exceeds our patient's expectations, we intend to deliver true value.
Hector Menendez, DMD
Dr. Menendez earned his bachelor's degree in biology from Rutgers University and went on to study at the University of Medicine and Dentistry of New Jersey Graduate School of Biomedical Sciences, where he earned a Master's in biomedical sciences in 1998. In 2003, he graduated from UMDNJ Dental School. After graduation, Dr. Menendez has focused a lot of his time on continuing education. He has taken Invisalign® courses, and has completed a mini-residency in implant dentistry, and advanced training in implant dentistry.
Dr. Menendez enjoys interacting with his patients, helping to transform their smiles and seeing the great satisfaction that it brings. Dr. Menendez is intent on providing value to his patients, team members, and practice by continuously searching for the best technology and materials, taking continuing education courses, and evaluating where we can improve our collective daily experience. This entails making the necessary changes in a timely fashion based on feedback and several self-evaluating protocols we have in effect.
When he's not in our office, Dr. Menendez enjoys exercising, playing pool, traveling, and fishing with his three children. Dr. Menendez enjoys maintaining a very relaxed and happy atmosphere in the office. He invites you to visit one of his conveniently located practices in New Brunswick or Union, New Jersey, soon to begin improving your oral health.
Colleen Trecartin-Frost, DMD
Dr. Trecartin-Frost is happy to be an associate dentist here at our practice! She received her Bachelor of Science in biological science engineering from Cornell University, then went on to receive her Doctorate of Dental Medicine from Rutgers School of Dental Medicine in May 2016. During her education, Dr. Trecartin-Frost was inducted into Omicron Kappa Upsilon, the Dental Honor Society. After receiving her degrees, Dr. Trecartin-Frost completed a General Practice Residency at Robert Wood Johnson University Hospital in June 2016.
As a dentist, Dr. Trecartin-Frost enjoys working with a variety of patients and with the staff at our practice. She also enjoys utilizing the advanced technology and tools that we have in-office. Dr. Trecartin-Frost is proud to be a female dentist, and she strives to bring new ideas and quality care to her dental treatments.
Dr. Trecartin-Frost was born and raised in Clinton, NJ. She is married to a fellow Cornell alumnus, Bob Frost, and they have an adopted puppy named Jack. When she is not in the office, Dr. Trecartin-Frost enjoys skiing, traveling, and being a pet owner. She is also learning Spanish.
Meet Our Team
As our patient, you entrust us with your dental health. We are a team of professionals dedicated to this goal. We are aware that for many people, there are significant barriers that prevent them from obtaining the dental work they need. But we are here to help you through these obstacles. If you would like to learn more about the caring team members who support our dentists in New Brunswick and Union, New Jersey, take a look at their biographies below.
Sonia—Office Manager
Sonia earned her bachelor's degree from Rutgers University and later earned her master's in information management from the Stevens Institute of Technology. She enjoys helping to implement new changes at Hector G. Menendez, DMD. Sonia is also furthering her education by taking classes in management in dentistry to help our practice grow. When Sonia is not at the office, she enjoys spending time with her husband, two sons, and daughter. She also enjoys reading and cooking in her spare time.
Patricia—Financial Secretary
Patricia has worked as a system analyst, clerk, and certified medical billing specialist before coming to Hector G. Menendez, DMD. She gives the best customer service she can and loves seeing people leave the office with healthier teeth. Patricia has been married for over 30 years and has a son. She enjoys spending time with her family, especially going to the beach.
Sheyla—Junior Office Manager
Sheyla has been with Hector G. Menendez, DMD for over 10 years, and is very happy to be part of this wonderful family. While working in the dental field, she has come to realize that she enjoys and loves the fact that she is able to make a positive difference in a patient's oral health through her job.
Sheyla feels that the techniques she employs to keep our office organized are a way she is able to contribute to the success of the practice. She facilitates patient-office interactions such as scheduling appointments, welcoming patients, making financial arrangements, and assisting patients with their insurance processing. In her spare time, she likes to watch movies, fix things in her house, and have family time. Sheyla has been married for over 17 years and has two beautiful girls.
Karen— Registered Dental Hygienist
Karen was a certified dental assistant and a registered dental assistant for 15 years before becoming a registered dental hygienist. She earned her degree from the University of Medicine and Dentistry of New Jersey in 2010. She is also CPR/AED certified and is licensed to administer local anesthesia.
Karen contributes to our office by her ability to rapport with patients, giving them individual care and attention while providing a stress-free environment and a gentle touch. She teaches our patients about how to achieve optimal oral health and has a passion to learn, taking yearly continuing education classes and seminars.
What Karen loves most about being part of our practice is the friendliness of our team and the care we provide for our patients. Karen has a passion for volunteering with the medical and dental mission held by the Immaculate Conception Archdiocesan School of the Philippines. She is also a yearly participant of the Gives Kids a Smile program. When not working and volunteering, Karen loves spending time with her husband and son.
Martha—Dental Assistant
Martha has been with our office for over 13 years. She is a certified dental assistant who also has a radiology license. She has been married to her husband, David, for over 28 years. They have two children, Paula and David. When she isn't working, Martha likes to go to the park where she walks and runs with her husband and their dog, Chloe. Martha also likes to go to the mall and eating out.
What Martha loves most about being part of Hector G. Menendez, DMD is the opportunity the dentists give her to learn something new every day. They are great people and don't treat the dental team like a regular staff, but like family. Martha contributes to the success of our office by doing her best every day. She really enjoys working with people, and it satisfies her to contribute in bettering other's oral health.
Belkis—Dental Assistant
Belkis has been with our practice for over 12 years. She attended the University of the Dominican Republic and tries to learn new things every day. Belkis is dedicated to giving patients some of the best dental care. She feels like her job is a form of therapy because she enjoys coming to work and thanks God for the opportunity. Belkis enjoys her work and every aspect of her job. When not at the office, she likes going to the gym and spending time with her daughter and family.